Miami Beach, FLa. March 24, 2022 – (C. Isaiah Smalls II | Miami Herald) – Pierre Rutledge will never forget his grandma's Miami Beach ID card. A 1936 ordinance mandated that Black visitors, many of them hospitality workers, carry the card at all times in Miami Beach or risk arrest. As a result, Rutledge and his family, save for his grandmother who worked as a domestic worker with white families, never really frequented Miami Beach growing up.
Now, as the chair of the Miami-Dade Black Advisory Board, Rutledge sees a connection between the city's handling of Blacks in the past and in the present after a state of emergency was declared this week following two shootings over the weekend.
There's an old saying that says 'If you don't know your history, you're destined to repeat it,' and it looks like, that's where we're headed.

Pierre Rutledge, Chair of the Miami-Dade Black Advisory Board
Miami Beach issued a state of emergency due to "clear and present danger of a riot or other general public disorder" and imposed a daily midnight to 6 a.m. curfew on the South Beach area that starts Thursday night and ends Monday morning. Critics say those measures cast a negative light over a city that has a history of mistreatment of Black visitors.
The Supreme Court declared the ID card law unconstitutional in December 1964, yet critics say the city still struggles with handling Black crowds. Examples include former city manager Jose Garcia-Pedrosa's "third world city" comments following a hip-hop convention in 1996; the attitude towards Urban Beach Week; Raymond Herisse's killing during Memorial Day weekend in 2011; a former Ocean Drive executive's leaked email calling Black tourists "classless, unbecoming, uneducated, ignorant" in 2019; and a military vehicle stationed on Ocean Drive during last year's spring break.
"They don't want the Black audience on Miami Beach but this isn't 1965 or 1975," said Peter Thomas, who owns BarOne on Miami Beach. Thomas hosted the How Can I Be Down hip-hop convention in the city for four years in the 1990s. After Garcia-Pedrosa likened the street conditions to a "third world city" in 1996, the conference never returned. The city manager's comment still rankles Thomas to this day as he said many of the elected officials are "racist" and "cannot prevent anyone from coming to Miami and partying on South Beach."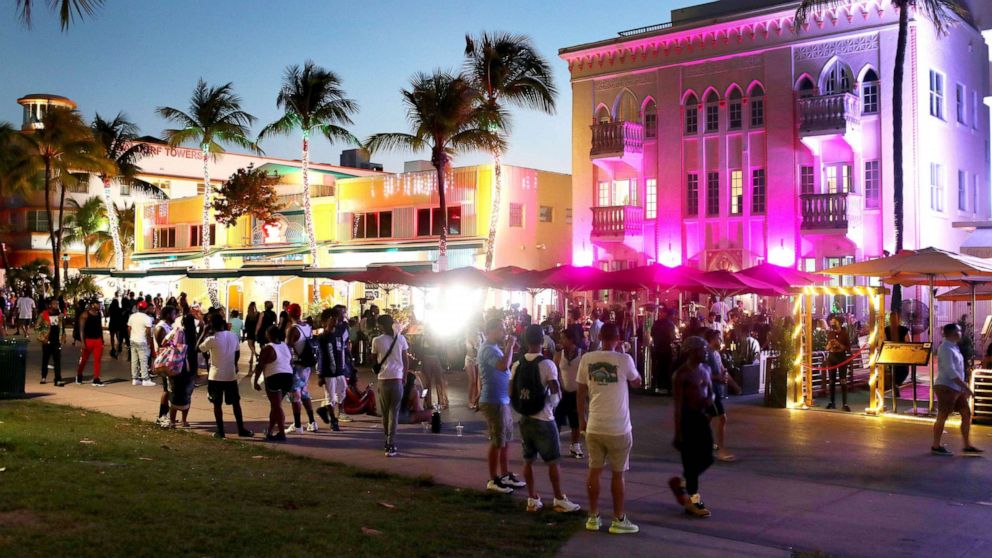 Miami Beach Mayor Dan Gelber denied the assertion that the state of emergency was racially motivated. Gelber said he understood why someone might make that argument, but added, he "can't worry about optics when people are getting shot."
"I cannot think of, in the history of my city, two days when five people were shot," Gelber said. Asked about the incident a decade ago when police killed Herisse and wounded four bystanders after spraying 116 bullets on Collins Avenue, Gelber said the two incidents had an "obvious difference."
"You can't compare that to just bystanders being shot by other people that we're trying to protect them from," Gelber said.
On Ocean Drive, Black tourists said South Beach, for the most part, was relatively calm compared to years past, save for a few isolated incidents. The usual atmosphere of spring break — from the especially scanty clothing to the pungent odor of marijuana to the loud music — was apparent along with the heavy police presence.
Police encounters did occur, including one in which a woman was arrested for dancing on top of a car, according to Keara Brown of Long Island, N.Y.
"Cops do too much out here," said Brown, who flew into Miami last week. "Everyone just wants to have fun. We're on spring break."
Brown and her friend, Amyah Smith, said the past weekend was a bit chaotic, especially after the shootings, yet implored police and elected officials to use more empathy with vacationers.
"Imagine that was your kid," said Smith. "Imagine you see your son or your daughter getting beaten by a cop, what're you going to do?"
Other visitors, such as Drexel University student Ayo Fala, felt the tension the moment he and his four friends touched down. Between the Uber drivers' horror stories and the news of the curfew, Fala felt a bit "uneasy" despite the relaxed atmosphere that comes with a Wednesday afternoon on Ocean Drive.
"The curfew makes it seem like we're the problem," Fala said.
Miami-Dade residents made up more than half of Miami Beach police arrests since the spring break season began Feb. 18.
Despite those statistics, the narrative remains that spring breakers — specifically Black spring breakers — are to blame, something that sets back the city as a whole, Rutledge says.
"We're back at square one," Rutledge added. "We have to be equitable, diverse and inclusive when we start looking at solutions."