WordPress has come a long way from the "Simple Blogging" Platform of its past. By using Custom Post Types, you can build all kinds of complex websites, turning WordPress into a full content management system.
There is a NEW way to work with custom post types. By utilizing Elementor, you can manage custom post types and build content that is custom fit to your needs. 
Use this method to build advanced WordPress sites:
Movie review sites
Real estate listings
WooCommerce products
All this functionality is possible thanks to custom post types.
What Are WordPress Custom Post Types?
Post Types are "types of content", grouped in a structured way within WordPress. Because WordPress' most famous post type is called "Posts", it is easy to make the mistake of thinking that Post Types are inherently about WordPress Posts. But a Post Type is a generic term that encompasses all types of content.
Learn More About Custom Post Types
The Default WordPress Post Types
Currently, there are 8 default WordPress post types.
Post
Page
Attachment
Revision
Navigation Menu
Custom CSS
Changesets
User Data Request
Most users are familiar with the two most common post types: Posts and Pages. Although similar, Posts are time-based listings while Pages are hierarchical in structure, with Parent > Child relationships.
Also, Posts make use of taxonomies such as Categories and Tags, while Pages do not, and Pages use Page Templates for display, while Posts do not.
Each post type is used for a specific purpose, for a particular type of content.
Although WordPress comes with a few default post types, there is an infinite number of content types that do not fit well into those specific post types. For that reason, WordPress allows users to create their own Custom Post Types, often referred to as CPTs.
You may have encountered Custom Post Types before. Many themes and plugins come with one or more Custom Post Types built-in.
Examples of a Few Custom Post Types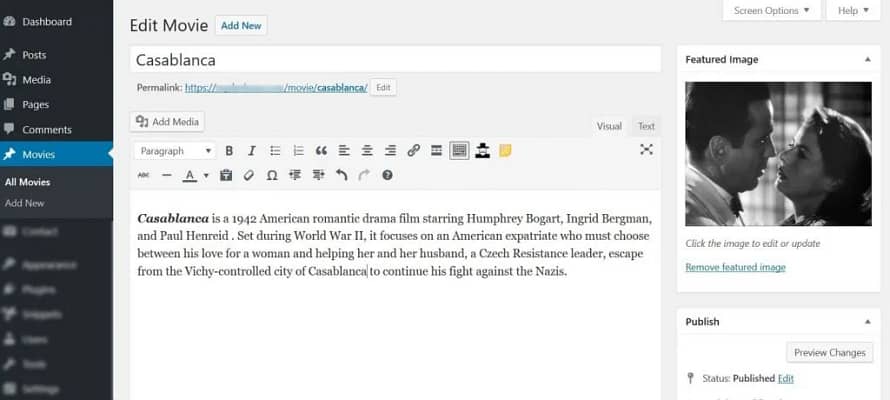 Some of the more common Custom Post Types you've probably come across include:
Movies
Testimonials
Reviews
WooCommerce Products
Events
Portfolios
Each of these defines a "type of content", and each creates a simple way for users to enter information about that content in the standard "WordPress way". A custom post type is accessed via the standard admin, with options such as Add New.
The editing screen looks very similar to the default Post and Page editors, as shown in this example of a Movie Custom Post Type.